Dean Matsuda, M.D.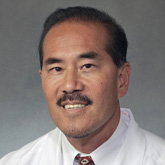 Dean Matsuda, M.D.
Dean K. Matsuda is a board certified orthopedic surgeon and Director of DISC's Hip Arthroscopy Center of Excellence.
Dr. Matsuda, who also serves as chairman of the Sports Medicine and Arthroscopy program committee for the American Academy of Orthopaedic Surgeons, came to DISC after 26 years at Kaiser West Los Angeles Medical Center, where he developed the hospital's sports medicine program. During that time, he was the chief of orthopedics, the director of sports medicine, and was honored as the very first surgeon of any field to receive the Distinction Merit Award for Surgical Excellence and Innovation.
A true pioneer in his field, Dr. Matsuda has invented several innovative surgeries that have greatly improved the treatment options for athletes with hip problems. Examples include an endoscopic treatment for osteitis pubis (a common form of athletic pubalgia), the first surgeries for femoral head fracture fixation using completely arthroscopic techniques, and arthroscopic labral reconstruction using the gracilis autograft. Although the arthroscopic approach is recognized as the preferred method for treating athletes with femoroacetabular impingement (FAI), patients with more severe deformities are often referred for open surgery. Dr. Matsuda has developed and published his techniques for the arthroscopic treatment of global pincer FAI and even posterior cam FAI. He has also invented several important surgical instruments to improve patient outcomes from hip arthroscopy.
Dr. Matsuda is a frequent lecturer and has performed many national and international surgical demonstrations. His published works include numerous teaching videos, journal and clinical research articles and book chapters. He is on the editorial board of Orthopedics Today and reviews for some of the top sports medicine journals. He graduated summa cum laude from the University of California in Irvine, went to medical school at University of California in Davis (known for its strong orthopedics program), and completed residency at Harbor-UCLA Medical Center. He is a fellow of the American Academy of Orthopaedic Surgeons and a member of the Arthroscopy Association of North America, the Western Orthopaedic Association, and the International Society for Hip Arthroscopy.
Dr. Matsuda is a former football running back whose love of basketball, golf and surfing keeps him active and connected with the active patients that he treats.
For more information, visit www.matsudamd.com.