Geoffrey S. Van Thiel, M.D./M.B.A.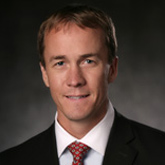 Geoffrey S. Van Thiel, M.D./M.B.A.
Dr. Geoffrey Van Thiel's orthopedic practice focuses on minimally invasive and arthroscopic surgery of the knee, shoulder, and hip. He has received extensive training from international experts and published significant literature regarding cartilage restoration techniques, complex knee ligament surgery, hip arthroscopy, as well as treatment of complex shoulder conditions, ranging from shoulder instability and rotator cuff repairs to shoulder replacement.
Dr. Van Thiel grew up in Wisconsin and graduated with Distinction from the University of Wisconsin – Madison. He then attended UCLA Medical School in pursuit of his medical degree and concurrently completed a Masters in Business Administration (MBA) from the UCLA School of Business. Following medical and business school, Dr. Van Thiel completed his residency at Rush Medical Center in Chicago under the guidance of some of the country's leading sports medicine surgeons. After residency, he was accepted into one of the top sports medicine fellowships at Rush University Medical Center.
Over the years, he has received intense exposure to world-renowned surgeons in a multitude of areas including a comprehensive involvement with cartilage restoration and joint preserving surgical techniques of the knee, hip, and shoulder; cutting edge procedures in shoulder arthroscopy and arthroplasty; in addition to gaining considerable expertise with hip arthroscopy. He has also had the opportunity to both educate other surgeons in these specialty areas and publish new techniques in order to help improve patient outcomes.
Dr. Van Thiel's commitment to an active lifestyle and athletics is evident in both his personal belief that activity leads to better health, and his involvement with sports teams. While at Rush, Dr. Van Thiel was an assistant team physician for the Chicago Bulls (NBA) and Chicago White Sox (MLB). He also served as team physician for multiple semi-professional, university and high school teams in football, hockey, basketball and gymnastics.
Orthopedic research and education is important and Dr. Van Thiel continues to have a passionate interest in these topics. He has authored over 40 textbook chapters and journal articles. His research has been included in over 60 international presentations with topics including: cartilage restoration, shoulder instability repair, rotator cuff repair, ACL repair, hip impingement treatment, complex knee ligament reconstruction, and shoulder arthroplasty. Dr. Van Thiel currently sits on the editorial board of two major orthopedic sports medicine journals.
Although cutting edge care is essential for excellent patient outcomes, Dr. Van Thiel also believes that cutting edge care cannot be completed without compassion and humility.
"Great results can only be achieved if a patient has a thorough understanding of their condition and the treatment options available to them. In many cases, there are multiple right answers and the goal of effective care is for the patient to arrive at the option that will provide the best and quickest return to activity."
AWARDS AND HONORS
American Orthopaedic Association (AOA) Resident Leadership Forum, 2010
Resident Teacher of the Year (Rush University Medical Center), Awarded by [Underline or Italic]Journal of Orthopaedic Trauma [End underline or italic], 2009
American Academy of Orthopaedic Surgeons (AAOS) Resident Liaison, 2008-2010