Richard C. Mather III, M.D.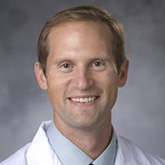 Richard C. Mather III, M.D.
Richard C. Mather, III MD (Chad) is currently an Assistant Professor of Orthopaedic Surgery in the Division of Sports Medicine, Department of Orthopaedic Surgery at Duke University Medical Center. His clinical practice is approximately 90% hip arthroscopy, currently performing over 200 cases annually. Dr. Mather has a B.S. in economics from Miami University and a medical doctorate from Duke University. He completed his orthopedic surgery residency at Duke and then a sports medicine fellowship at Rush University Medical Center. He stayed at Rush for additional focus in hip arthroscopy with Shane Nho MD. He is also a team physician for Duke athletics.
Dr. Mather's academic focus is economics and health policy in addition to hip disease. He completed a fellowship in decision modeling in the Center for Clinical Health Policy Research at Duke University. He is currently a health policy fellow with the American Academy of Orthopaedic Surgeons and the Arthroscopy Association of North America. He has authored several publications and has delivered numerous regional and national presentations and invited lectures. His research has been recognized with awards at regional and national meetings. He currently has a KM1 award from the National Institutes of Health for his work in decision modeling.